Solo Exhibition Eastern Washington University Gallery of Art 2009
RE:cycled is a group of works made from materials and objects found, purchased 2nd hand, recycled and collected along the Spokane river. In my daily walks on the river I often stop to collect interesting and unusual forms that make their way to my community via the moving waters. The unusual and the mundane, forgotten objects found at 2nd hand shops or yard sales bring me to a place of satisfaction in finding them a home in my studio. Recycled materials often found on the street, in a trash pile or even on e-bay are given a second chance at life in a new context.
Most of the forms evoke a memory of things I have seen or known before in art school lectures or museum visits. I find inspiration in a rusted nail or a plank of wood. I spend much time sitting with these objects to determine how they want to be reinvented. I listen to the story of their past to help identify the story of their future. I find some of the objects demand to be taken seriously while others just want to be laughed at. I do my best to oblige their wishes'.
Mechanism for the promotion of Child Labor; found welded steel parts, chemical patina, new handlebar grips, wild dry grass. 46" x 48" x 59" 2009 private collection, Spokane WA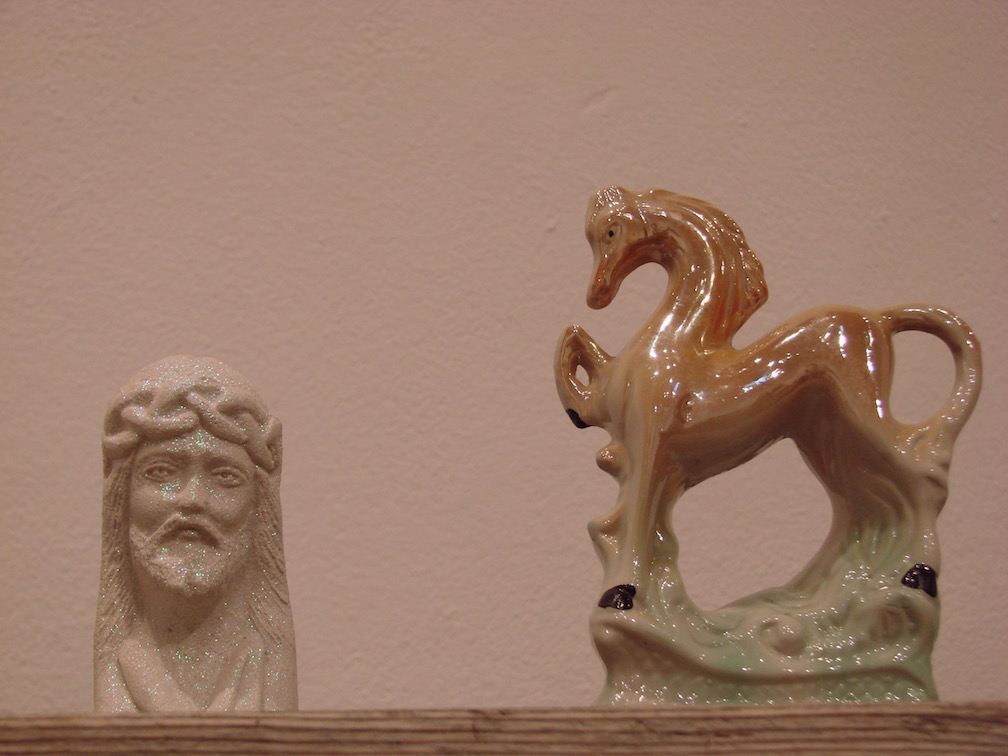 Glitter Jesus & His Magic Pony; acquired objects, found object. 38" x 26" x 12" 2009 private collection.
Glitter Jesus was purchased at a fundraiser to help cover the expense of an EWU student's fall tuition & fees, also where I found His Magic Pony. The bench was a street find in Peaceful Valley. They found each other in minutes in my studio.
Portrait of the Artist; hardware, acquired object. 6" x 14" x 3" 2009 collection of the artist.
Fall From Grace; found object, slip cast porcelain, mason stains, clear coat.
48" x 38" x 38" 2009 NFS.
...sonata for explanatory hierarchies...; acquired object, hardware, plaster casts, fibers.
70" x 58" x 11" 2009 collection of Dan Wenger, Portland, OR
Interactive Riverbank Experiment; sand, rocks, participants. Dimensions Variable. 2009 NFS
For several weeks, volunteers and I walked the banks of the Spokane River and moved and stacked rocks, then collected them and brought them back to my home to await their arrival in the gallery. Visitors were asked to interact with the river rocks here.
If you have never walked the undeveloped trails of the Spokane River, please do so and interact with rocks you encounter there. Willingly participate in appreciation of the splendor of your community, as it is, undeveloped.
No rocks were harmed in this experiment and all were be returned to their place of origin when the experiment was complete.
*since this piece was conceived encroaching developments threaten the wild places that cut through the center of the city of Spokane. Paved trails and condos allow more access but threaten the wild experiences I prefer.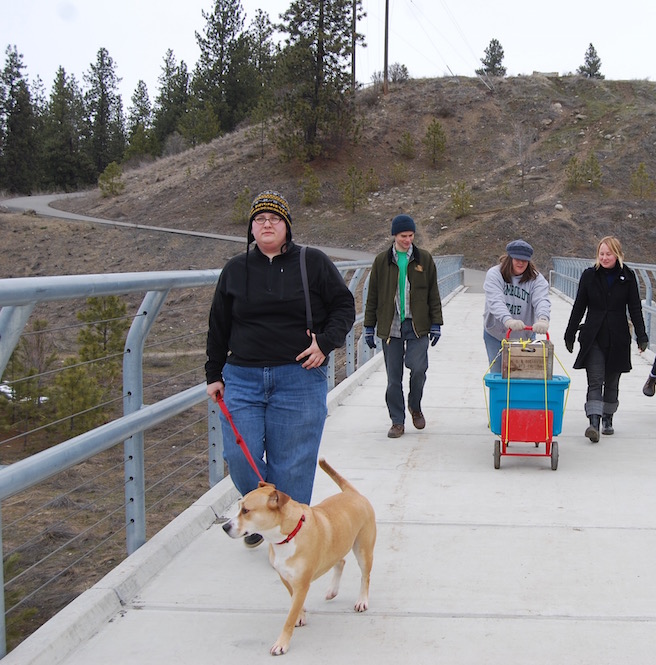 ***special thanks to the crew of Gabriel Brown, Chrystal Wakeham, Cori McWilliams, Sunshine Poliquin & Turq the wonder dog.